Here is an article from E! on why the Hunger Games is bigger than Twilight. No offense to Twihards.
Katniss Everdeen is so resourceful, you might bet she could slay a vampire.  
And you might be right.
Here's why The Hunger Games looks like it's going to open bigger at the box office than Twilight:
1. It May Have Already Opened Bigger Than Twilight: As reported this week, in terms of advance-ticket sales, The Hunger Games is outpacing the first Edward-Bella saga.
2. It May Hit $100 Million in Its First Three Days: And, at this heady point, that's practically the conservative guestimate. The first Twilight, by comparison, grossed a then-stunning $70 million in its Friday-Sunday debut.   
3. Forget Twilight, It May Open Bigger Than Breaking Dawn: Considering the most recent Twilight movie broke out the fifth-biggest opening weekend in Hollywood history, this would seem an impossible feat for The Hunger Games except for the fact that The Hollywood Reporter says polling data suggests it is possible. If it makes Twilight fans feel better, New Moon's fourth-biggest opening weekend in Hollywood history appears safe. (And, yes, Hunger Games fans, it's usually not fair to compare the first movie in a franchise to its sequel, à la New Moon and Breaking Dawn Part 1, but The Hunger Games is not shaping up to be usual.)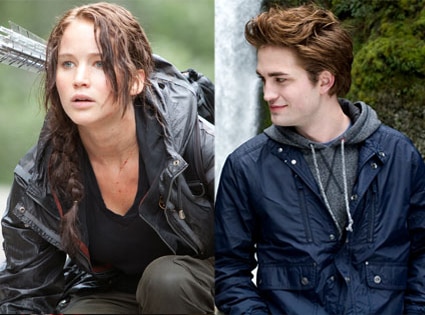 4. Imax, Baby:
The Hunger Games
is bowing at 270 Imax theaters (out of some 4,000 total). The original
Twilight
didn't bow at any Imax theaters, and, hence, didn't sell any pricey Imax tickets.
5. Arrows! Explosions! Death! In other words, the action-driven Hunger Games has something for everyone, romance-averse boys included. "From the tracking I've seen, the film has much broader appeal than the Twilight films, both in terms of age, and of gender," Bruce Nash of the box-office-data site The Numbers said in an email. 
The Bottom Line: Because Dr. Seuss' The Lorax opened so surprisingly huge, The Hunger Games is more tasked with coming up with $70 million-plus in order to beat that movie, and win bragging rights as the year's biggest opener, than it is with trying to outdo its young-adult lit rival from the library of Stephenie Meyer. 
Rest assured, even if if Katniss wins, Twilight doesn't lose.