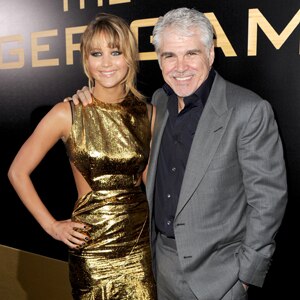 It's safe to say we were shocked to hear reports that
Hunger Games
director
Gary Ross
has
dropped out of the franchise
, leaving the second film (which is set to shoot this fall) without anyone in charge.
Just this morning we were saying Gary was
far too invested in the story
to let tough negotiations get in the way of his helming the sequel. Not to mention the fact that you'd think Lionsgate would be bending over backwards to keep Ross onboard, what with the
millions he earned them
at the box office.
But how wrong we were. So what's next for the franchise?!
"Nothing has been officially finalized," a source close to the production tells us. "But Gary is leaving, unofficially."
Our source was light on details but said that it had less to do with money issues—which was rumored
to be the point of contention
between the studio and director—and has more to do with the "politics" behind the franchise.
Let's take a moment to grieve the loss of Gary, shall we? He did us proud with the first film.
OK, now that that's over, it's time to dry your eyes and start thinking ahead to the sequel—someone ought to, after all, because—even though the first film just hit theaters—Thanksgiving 2013 (Fire's release date, as of now) is right around the corner.
While some names have already been
tossed around to replace Gary
(our vote goes to
Alfonso Cuarón
), we decided to take a look at the forefathers of franchises—
Harry Potter
and
Twilight
, duh—to see how a new director could affect the next movie.
It could be good:
Chris Columbus helmed the first two Harry Potter installments before handing over the reins to Cuarón for the third film, Prisoner of Azkaban. And the switchover was seamless…if not an improvement to the witchy flicks!
The Hollywood Reporter praised
Prisoner
for being "deeper, darker…and more emotionally satisfying" than even the first two films. Hey, considering the source material, that could be the perfect route for a
Hunger Games
follow-up.