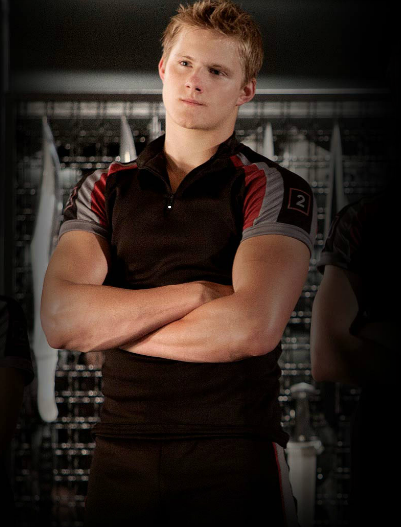 Alexander Ludwig as Cato
As Alexander Ludwig fields questions from local media outlets in a downtown Vancouver hotel, The Hunger Games' colossal $155-million opening weekend is still two days in the future. However, no one would be foolish enough to call this the calm before the storm.
The previous day, hordes of teenaged fans queued for upwards of 12 hours to score his autograph at a Chapters bookstore. Earlier this morning, he needed to evade another throng of girls who'd staked out his appearance at a local radio station. "I wouldn't wait five minutes for me," marvels the 19-year-old West Vancouver native. "I don't really understand what's happening."
What's happened, of course, is that Ludwig has scored a coveted role in the highly-anticipated adaptation of Suzanne Collins' popular young adult novel. In a dystopian future, a totalitarian regime has established a televised bloodsport/show-of-power in which 24 teenagers enter and only one survives. (With the contestants required to curry favour with the audience by establishing backstories and subplots for themselves, the parallels to reality television are easily spotted.)
At the centre of the tale is good-hearted Katniss Everdeen (Jennifer Lawrence), who must survive more merciless competitors like Ludwig's Cato.
Having previously enjoyed prominent roles in lower profile movies like The Seeker and Race to Witch Mountain, The Hunger Games presented Ludwig a new challenge: breathing life into a major character who isn't blessed with a wealth of dialogue.
"A lot of it was creating backstory. Suzanne, (director) Gary Ross and I sat down and talked about the character. Luckily, Suzanne is such a great writer that part of it was already mapped out for me in the novel," he recalls of the process.
"The interesting part was trying to justify what Cato was doing. As an actor, if you're playing someone like that, you have to fully believe that everything that character is doing is for the right reasons. And you have to come up with reasons why that is okay. It was a very dark and intense but fulfilling experience as an actor.
"The reason I took the role was because of one scene near the end of the movie. You really see, just for a second, a glimpse of humanity in Cato," he continues. "At that very last second, people kind of sympathize with him. Even though what he's doing is horrible and unforgivable, you kind of see where he's coming from."
A graduate of Collingwood School, Ludwig is now a theatre major at the University of Southern California.
As he tells it, his time on set only furthered his education. "One of my favourite scenes was getting to work opposite Stanley Tucci [who plays flamboyant media darling Caesar Flickerman]," shares Ludwig. "I learned so much from him just in the five minutes that we talked. When we first met, I was already taking down mental notes. 'Remember everything Tucci says.'"
While Ludwig admits that he was occasionally starstruck in the presence of Tucci and Lenny Kravitz, he and younger co-stars such as Josh Hutcherson established some immediate rivalries. "We were all duking it out right from the time we got to training. It was all in good fun but I'm a very competitive person at heart. That's one thing I did relate to in my character."
Showing that he knows his way around a metaphor, he surmises, "I like to think of my career as the arena that Cato's in. I have to duke it out with everyone else and hopefully come out on top."
He laughs before adding, "And hopefully not die."
newsroom@northshoreoutlook.com