Isabelle Fuhrman
Hunger Games star Isabelle Fuhrman is still reeling over their record breaking weekend (and Monday, FYI). So how did she find out it was the third highest opening in history?
"One of my friends actually called me!" Isabelle told Celebuzz. "I got a bunch of emails from my agent and from a lot of people at Lionsgate. I was like 'Oh my god, seriously that much?!'"
It was just shy of $155 million, and Fuhrman said stars Jennifer Lawrence, Josh Hutcherson, and Liam Hemsworth were all happily surprised:
"I was texting some of them the other day and I think we're kind of still in shock about it," Isabelle told us at the Valentino Flagship store opening in Beverly Hills. "We knew it had a huge fan following, and it was kind of growing [the fan following], but this was so much bigger than we expected."
Isabelle was a contributing factor to ticket sales, laughing: "I've seen it five times and I think I'm gonna see it again this week!"
So do any of her friends think it's weird to watch it next to one of the stars on screen?
 
I think my friends think it's kind of cool. When I was watching it with them, they all cheered when I died. So that's a good thing, right?
Hunger Games mania is well underway, which means the tabloids are trying to get in on any salacious action. So does Isabelle pay attention to any of that stuff?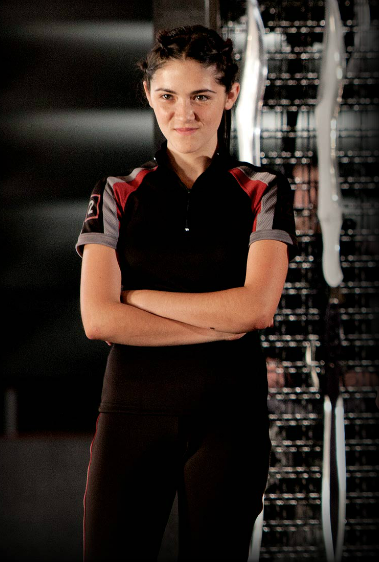 Isabelle Fuhrman as Clove
Not really. I think when I was at the nail salon today, I was looking at [tabloids], but I didn't see anything about them so I hope not.
Even though Fuhrman's character Clove dies in the movie, she is still excited for the sequel Catching Fire.
"I know the first draft is out there and I am definitely keeping tabs on it because I'm such a huge fan of the series, but I don't know very much," she told us. "In spirit, I will live on!"