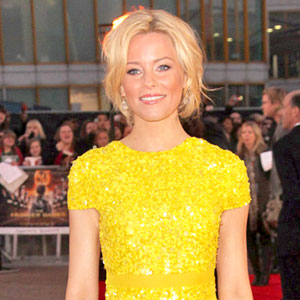 We already know that Josh Hutcherson is "really excited" to work with Francis Lawrence, the director recently selected to replace Gary Ross to helm The Hunger Games sequel, Catching Fire.
But how does Elizabeth Banks, who plays flamboyant chaperone Effie Trinket, feel about having a completely different person shouting "action"?
"I have no idea," Banks admitted to E! News at the Lucky Magazine Fashion and Beauty Blog Conference on Monday night. "I've never met Francis."
However, the actress was quick to add that "he seems lovely and I like his movies."
Lawrence is the man behind such flicks as Constantine, I Am Legend and Water for Elephants.
"I'm really excited for a new voice to be involved," Banks said. "I think it's going to be great for the franchise, so I'm excited. That's really all I know. I'm actually very excited about it."
Cameras are scheduled to start rolling on Catching Fire this fall.