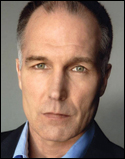 According to J
eff Sneider of Variety
, Patrick St. Esprit (Sons of Anarchy) has been offered the role to play District 12's head peacekeeper Romulus Thread. If you have read the book, Thread is very dedicated to follow Capitol's order in District 12. He was the one who punished Gale in public because of poaching turkey.
Variety has stated that:
St. Esprit has experience playing authoritative military types, having appeared in "We Were Soldiers," "United 93," "Green Zone" and most recently, in J.J. Abrams' "Super 8." He also played police officers in recent episodes of "Rizzoli & Isles" and "NCIS: Los Angeles." Thesp is repped by Abrams Artists Agency and Justice & Ponder.