Sam Claflin was able to discuss his role as Finnick in "The Hunger Games: Catching Fire," how he trained, and his reactions when he first knew he got the role. Watch the video below and see Sam discuss those things in his photoshoot with Teen Vogue.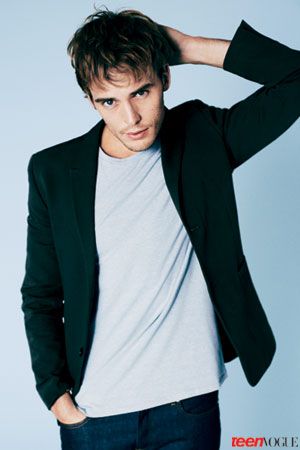 TEEN VOGUE: Aloha, Sam! Congratulations on scoring the role of Finnick Odair. How did this all go down?
SAM CLAFLIN: Yeah, so they decided to go with me as opposed to any of the other young, hot, good-looking actors out there. [Laughs] I auditioned like everyone else. I didn't know what it was for before I went in, and I hadn't read the books. Looking at the page with a character named Finnick, I was like, Who the heck is Finnick? And then I saw Katniss on the page, and I was like, Ahh, OK, maybe this is The Hunger Games. Then they decided they would dye my hair blonde, and presto, there's your Finnick Odair!
TV: Do you like your blonde hair?
SC: It's definitely taking some getting used to. I have a tan and a six-pack now after four months of hard work. I feel slowly but surely like I am Finnick Odair.
TV: Your training sounds intense!
SC: From the moment I set foot in Atlanta, they had me at the gym, working out twice a day. And then stunt training, it's nonstop. To be fair, I spend a lot of the film carrying an old lady on my back, as Finnick carries Mags for the majority of the arena scenes. I feel like every day of filming is a workout, running around Hawaii with little old Lynn Cohen on my back. As for my diet, I think I've eaten more chickens than there are in the world. [Laughs] I would eat chicken and asparagus for lunch and dinner, and for breakfast I'd have an omelet and oatmeal. And I had that every day for four months. I've talked to my friends and said, "Oh my God, I'm so depressed, I just want a burger." And they're like, "You don't know how lucky you are to be doing what you are doing."
TV: What makes Finnick such a great character to play?
SC: There are so many complexities to this character. Finnick has a tempestuous relationship with Katniss—she trusts him one minute, and the next she doesn't. I love their relationship. Together they eventually realize they need each other to survive, and that is beautiful.
TV: What can we expect from Finnick? Can you give us a little teaser?
SC: All I can say is I try very hard and hopefully I won't disappoint people. He's a very charming physical being, and hopefully he will be exactly what people read in the book and I won't be doing an injustice. I purposefully did not want to watch anything I've done so far; I actually don't like looking at my face, so I don't like watching myself on the screen. It's an insecurity thing I have. I'm somewhat of a perfectionist, I think, and I strive for perfection. The reason I'm an actor is because I'll never be able to be perfect. I hope people enjoy my interpretation. Hopefully we'll make a bigger and better one this time around.