In a press release, Lionsgate has partnered with restaurant chain Subway for "The Hunger Games: Catching Fire." The partnership will involve promotional materials of the movie to be displayed at several Subway restaurants for the benefit of the charitable institution Feeding America.
SUBWAY® restaurants, the world's largest restaurant chain, and Lionsgate (NYSE: LGF), a leading global entertainment company, today announced that SUBWAY® will be the exclusive restaurant promotional destination for the film "The Hunger Games: Catching Fire," the highly anticipated second installment of the global blockbuster "The Hunger Games" film franchise.  "The Hunger Games: Catching Fire" will open in theaters worldwide on November 22. SUBWAY® and Lionsgate will utilize their promotion to support Feeding America, a non-profit organization consisting of more than 200 food banks nationwide.

    SUBWAY® restaurants in the U.S. and Canada will be fired up in anticipation of the film's release, with a number of promotional assets planned for in-store, social, online, and broadcast. A special product line will be featured with thematic ties to the film, along with specially marked packaging with codes encouraging customers to engage online for their chance to win prizes. SUBWAY® customers can also pose with their favorite character's standees in the restaurants and are invited to share photos on social media for additional chances to win.

    "There's nothing hotter than 'The Hunger Games' franchise," said Michelle Cordial, Director of Marketing Development for SUBWAY® restaurants. "Being able to deliver exclusive 'Catching Fire' experiences to our Subway fans is something that Hunger Games enthusiasts can't find anywhere else."

    "With SUBWAY joining as a promotional partner for 'The Hunger Games: Catching Fire,' Lionsgate has found new ways to reach a larger audience of fans of the film franchise," said Paula Kupfer, Vice President of Promotions and Consumer Products for Lionsgate.  "Beyond providing fans with unique film experiences, what makes this promotion truly special to the studio is our ability to work with SUBWAY to support Feeding America and help provide to those in need."

    "The Hunger Games: Catching Fire" begins as Katniss Everdeen has returned home safe after winning the 74th Annual Hunger Games along with fellow tribute Peeta Mellark. Winning means that they must turn around and leave their family and close friends, embarking on a "Victor's Tour" of the districts. Along the way Katniss senses that a rebellion is simmering, but the Capitol is still very much in control as President Snow prepares the 75th Annual Hunger Games (The Quarter Quell) – a competition that could change Panem forever.

    "The Hunger Games: Catching Fire" is directed by Francis Lawrence, from a screenplay by Simon Beaufoy and Michael DeBruyn, based upon the novel "Catching Fire" by Suzanne Collins and produced by Nina Jacobson and Jon Kilik.
Lionsgate has extended the distribution of more Hunger Games films, Catching Fire, Mockingjay Part 1 and Part 2 to be exact, in Austria, Germany, and East Asia. According to
Variety
, Studio Canal will distribute Catching Fire and Mockingjay Part 1 and 2 in Austria and Germany while Celestial Tiger Entertainment will extend the reach of film in East Asian countries like Japan and South Korea. Read more below:
BERLIN — Lionsgate has strengthened its international partnerships, expanding existing pacts with Studiocanal in Germany and Austria, and with Celestial Tiger Entertainment in all of East Asia.

The multi-year deals are the latest steps in Lionsgate's strategy of creating an international distribution network with leading partners in major territories.

The agreement with Studiocanal extends the media giant's distribution of "The Hunger Games" franchise in German-speaking territories to include the final installment of the series, the two-part "The Hunger Games: Mockingjay," and also encompasses other films from the Lionsgate slate.

The two companies announced in May that Studiocanal would distribute the franchise's next installment, "The Hunger Games: Catching Fire," as well as the renewal of Lionsgate's distribution agreement for Studiocanal's library of more than 2,000 titles in North America.

"Studiocanal epitomizes the kind of blue-chip partner around whom we are building our international distribution network," said Lionsgate Motion Picture Group co-chairs Patrick Wachsberger and Rob Friedman. 

The companies said the new agreement "complements Summit Entertainment's continuing output deal with longtime German partner Tele Munchen."

Lionsgate acquired Summit in January, but the Lionsgate and Summit labels remain separate.

Lionsgate and Studiocanal are also partnered in the Elevation Sales home entertainment joint venture in the U.K., as well as in the distribution of the Miramax library worldwide. The two companies likewise joined forces on the 2010 release of the hit horror film "The Last Exorcism."

Lionsgate also boosted its exclusive partnership in Asia by expanding its distribution pact with Hong Kong-based Celestial Tiger from China and Southeast Asia to all of East Asia, including Japan and South Korea.

Celestial Tiger, which is partly owned by Lionsgate, will handle the company's feature film and television content in the region.
Lionsgate and its newly acquired Summit Entertainment (the home of the Twilight series) have recently made an agreement with Nordisk Film for the release of several films in Scandinavia. Find out more from
Rapid TV News
.
Nordisk Film has signed a multiyear output agreement to feature films in Scandinavia from both Lionsgate and Lionsgate's recent acquisition, Summit Entertainment. 
The agreement, announced at the Cannes Film Festival, is an extension of an existing arrangement with Summit, the studio behind the blockbuster Twilight series.
"We are proud to extend Summit's longstanding relationship with the team at Nordisk Film to include both the Lionsgate and Summit brands in Scandinavia, a natural evolution of our historic partnership that promises significant benefits for both partners," said Nordisk execs. "The recent merger of Lionsgate and Summit allows us to bring a dramatically expanded portfolio of product to our distribution partners around the world and enables us to achieve significant economies of scale and an even higher level of consistency and predictability in our global business."
The upcoming Lionsgate-Summit combined slate includes such hot releases as Lionsgate's upcoming Catching Fire, the second film in the popular Hunger Games series, and Twilight's Breaking Dawn Part II. Also covered is Sam Raimi's The Possession, The Last Stand with Arnold Schwarzenegger and the new Dirty Dancing film.
But he or she will face an even tighter production schedule than the one Ross cited as his key reason for exiting. Lionsgate is holding firm to its Nov. 22, 2013 release date for "Catching Fire," a spokeswoman confirmed Wednesday.
Fox's "X-Men: First Class" sequel is compressing that window further, given that "Games" star Jennifer Lawrence is committed to the superhero pic, which has a January 2013 shoot date planned. If Fox won't budge, "Catching Fire" would have to wrap production by December.
That should give it a reasonable five-month window to lens — provided the pic makes its scheduled August start date. Before that can happen, however, Lionsgate has some key hurdles to clear:
• It needs to sign a director whose late-summer schedule is open and can immediately begin working with "Slumdog Millionaire" screenwriter Simon Beaufoy, who's still crafting the "Fire" script.
• Though Lionsgate has the lead actors (Lawrence, Josh Hutcherson, Liam Hemsworth and Woody Harrelson) locked in for the sequels, the stunning performance of "Hunger Games" means the company may feel the need to sweeten their deals — even if it's not contractually obligated to do so.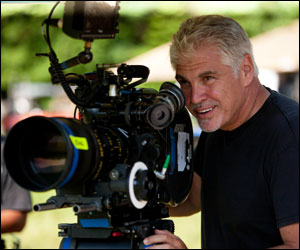 Gary Ross confirms he will not direct Catching Fire
• Once a director is on board, he or she needs to cast about two dozen additional actors who were not in "The Hunger Games." Suzanne Collins' "Catching Fire" story features a special edition of the Hunger Games every quarter-century in which tributes are "reaped" from the victors of past games. Among the key new characters is Finnick, a combatant in the second book who leads a revolt against the Capitol, and the head Gamemaker in the second book who turns out to be working stealthily for the uprising.
None of these tasks is insurmountable, and bizzers expect Lionsgate to meet its deadlines.
"I don't thing it's a big problem," said one tenpercenter who covers Lionsgate. "It would have been a problem if it were the first film, but now you already have the infrastructure in place for the next film."
Besides, the crunch the studio faces is hardly unprecedented: Lionsgate's motion picture group is headed by former Summit toppers Rob Friedman and Patrick Wachsberger, who saw Catherine Hardwicke depart after the first "Twilight" film and replaced her with Chris Weitz for "New Moon." Those pics were released exactly one year and one day apart.
Wall Street shrugged off concerns about the studio finding a new helmer in time, as shares rose 16¢ to $12.78 on Wednesday. Shares have pulled back since hitting an all-time high $15.69 two days before the March 23 opening of "Hunger Games," but the stock is also up 47% since Lionsgate acquired Summit in Janaury.
Matthew Harrigan of Wunderlich Securities, who tracks Lionsgate and has a $19 price target on its stock, told Variety that Lionsgate should have little problem keeping "Fire" on track for 2013 — provided the studio gets moving promptly.
"They allowed a counterintuitively long window from March 2012 to November 2013 for the second release to tinker with anything that needed to be adjusted," Harrigan noted. "I don't know whether some of this was a cushion in anticipation of the possibility of just what happened. I guess we will find out how big a cushion they need."